The RCN Foundation Benevolent Service is currently experiencing an exceptionally high volume of applications. To that end, we may be unable to respond to, and process, your application within our usual timeframe of 10 working days. If you apply for a grant now, you will not receive a decision before Christmas.
Benevolent Grants Manager, Leah, tells us her top 3 tips you should follow before applying for an RCN Foundation hardship grant:


Failure to submit the above information will result in an even longer delay in processing your application. Please bear with us as we work through all applications. We thank you for your patience.
The RCN Foundation Benevolent Service is here to support you.
You do not need to be a member of the Royal College of Nursing to apply. If you do receive a hardship grant, this will not need to be repaid.
If you are seeking the Royal College of Nursing Strike Fund, please go to The Strike Hub over on the RCN website.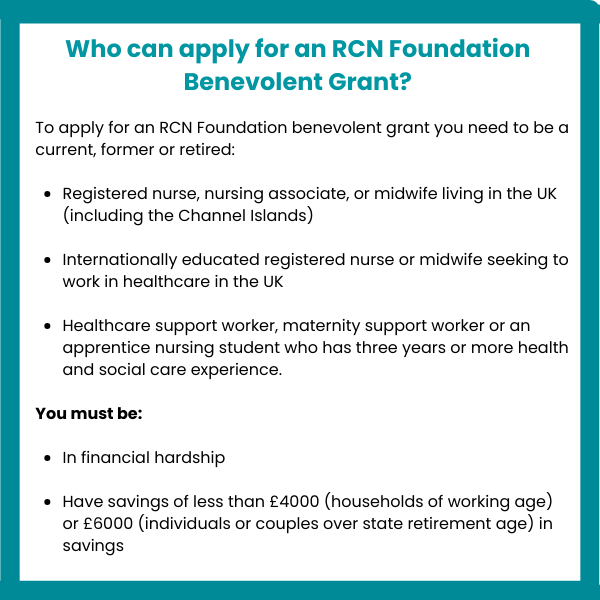 If you have been suspended or removed from the NMC register, please email rcnfoundationbenevolent@rcn.org.uk for more information.
Before you start your application
You will need to upload the following documents. Failure to do so will result in significant delay to your application. If you have any queries, check our our FAQ's.

The last 2 months bank statements from all bank accounts you hold for you and your partner if applicable. These need to show:
Name

Address

Full account number

Sort code

Transactions

Running Balance
Note: if you have transactions from one account to another you will need to provide all statements for all accounts.
Evidence of having worked as a nurse/midwife (UK or international)
Evidence of 3 years' service working as a healthcare support worker, maternity support worker or degree/foundation degree apprentice nursing student in a nurse supervised health care role (UK Only).
If applicable, a full copy of your most recent Universal Credit statement (all pages) or evidence that you have claimed Universal Credit

If you are looking for help with a specific cost or with essential arrears (rent/council tax) please provide documentation to show the cost or an up to date statement to show balance owed.
Additional information
Benevolent grants take several weeks to assess and pay, so they are not able to provide immediate support if you need money in the coming days. Other options are listed in our guides at the bottom of this page.
Once your application and documentation has been reviewed, you may be asked to provide further information and documentation. Please be sure to read all communication thoroughly.

If documentation is not provided as requested, it will delay your application.
Apply for a hardship grant