Supporting the Impact Foundation in Bangladesh
In February 2020, former President of the Royal College of Nursing (RCN), and main fundraiser for this project, Cecilia Akrisie Anim CBE, visited the Impact Institute of Nursing in Mehepur, Bangladesh to see student nurses Sabrina and Grace graduate.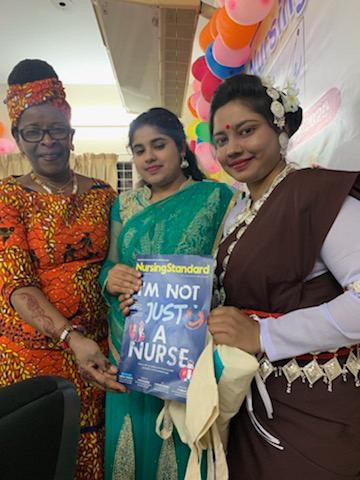 Cecilia had a very busy few days visiting the various Impact Foundation projects including: Impact Masudul Haque Memorial Community Health Centre (IMCHC), Impact Jibon Tari floating hospital and of course, Impact's Institute of Nursing in Mehepur. The trip was a huge success, and one Cecilia will never forget.
In 2016, in partnership with the RCN President's Charity, the RCN Foundation awarded a grant to the Impact Foundation to support the training of two student nurses in Bangladesh. This was in response to the critical shortage of nurses in the country. The two student nurses – Anamika and Sabrina – began their three-year course in early 2017 at the specialist Nursing Institute in the Meherpur District, which had been established to provide career opportunities to academically able young women from poor backgrounds. The two students have had an excellent first year. Sabrina said: "I and my family are so thankful to the RCN Foundation UK for funding my studies. I think it opens a great opportunity and has inspired me to do the best." An additional impact of the project has been that students undertaking work experience in hospitals have been able to provide auxiliary support to existing medical staff. Students always work under strict supervision and are greatly enhancing the level of personal care that can be provided to patients.